Quiet Fall Monitor sends Wireless Signal to Pager-Monitor Only
Smart Caregiver
SKU:
VKR-TL-2016R
|
UPC:
812293010129
Easy To Use Cordless Fall Guard Monitor to Pager Only
(TL2016R)
The TL-2016R Monitor and TL-2016P Wireless Pager System is designed for use with All Smart Caregiver Corded Pads and Mats and allows caregivers to receive alerts remotely via wireless pager. Fall Monitor can send wireless signal to pager (sold separately) to alert caregiver and be placed at the bedside or on a wheelchair, connected to a corded sensor pad. The sensor pad is placed under the resident. When the resident gets up and pressure is removed from the pad, monitor will alert the caregiver with a silent wireless signal to the caregiver pager. The Fall Monitor with Wireless signal to Pager also has a built-in Nurse Call Button for easy caregiver paging. Battery operated (3-AA not included). Optional AC Power Adapter (AC-05).

Caregivers can eliminate in-room alarm noise and receive alerts by pager with no central monitor required

Monitor transmits a wireless signal (433Mhz) to a local pager to notify the caregiver outside the room to decrease noise and resident anxiety

Optional Setting: Caregiver with key can reset monitor with Patented, Caregiver Key™ that Tamperproofs monitor.

Aids with fall risk assessment

Auto-Reset when pressure is re-applied to pad

No Unsafe Off switch – prevents resident tampering

Check Pad Light: Indicates that connection to bed sensor pad has been disrupted

Monitor has a built-in Nurse Call Button and raised visual status light for easy caregiver paging

Reset button on the face of the monitor

Works with corded sensor pads - need to purchase separately


Monitor can be programmed with a 3-digit number identifier that displays on pager and Large Facility Central Monitor

3-Way Adjustable Alarm Tone / Fully Adjustable Volume Control / 0,1,2 Second Delay Control

Raised Visual Status light enabling caregiver to see alarm from a distance

Nurse call Port – Plugs into existing nurse call system

Built-in strain relief clip to reduce the number of broken cords from accidental or excessive pulling from resident or bed rails




Visual Status light

Patented Pad Lost notification – alerts caregiver if connection between sensor pad and monitor becomes disconnected

Battery operated (9V not included) or optional AC adapter

Low Battery notification – Light will flash to alert caregivers that the battery is becoming low in the monitor

Adjustable volume

Multiple alarm tones

Protective Boot

Impact-resistant boot with hanging buckle-strap

Wall Mount Screws and Hardware included

Battery operated (3-AA not included) or optional AC adapter (AC-05)

1-Year Warranty
The TL-2016 Wireless Fall Monitor works with the following sensor pads and pagers (click the link for more information)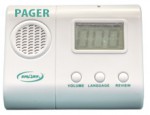 Pager TL-2016P – Pager with LCD Display – 6 month warranty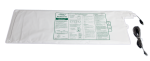 Silver Lining Corded Chair Sensor Pad 10″ x 15″, coiled cord

Corded Floor Mat Sensor Pad FM-07 – Long Floor Mat with SafeTRelease Cord 24″ x 48″ (gray)
Nurse call button

Compatible/Use with:
• Corded Bed Sensor Pad: PPB-RI/WI/45/90
• Corded Chair Sensor Pad: PPC- RI/WI/45/90
• Corded Floor Sensor Mat: FM-03/05/07
• Resident Bedside Call Button with Cord (functions with TL-2016R) - TL-2016NC
• Corded Landing Mat: LM-01
• Easy Release Wheelchair Seat Belt - TL-2109
• Quick Release Wheelchair Hook & Loop Seat Belt - TL-2109V
• Large Facility Central Monitor – TL-2015R2
• Economy Central Monitoring Unit – 433-CMU-40/60
• AC Adapter (AC-05)

1 Year against manufacturer defects. Wipe clean by using disinfectant wipes or anti-bacterial cleaner.